Additional Gallery Images
You can add additional images for every variations separately. On selection of any variations, complete product gallery changes images. You can add unlimited number of images for variations with plugin.
Designer Variation Swatches
Create Designer variation swatches for your products. You can customize default dropdown based variations into user friendly variation swatches. 
Customize basic WooCommerce product page into attractive, user friendly page with this plugin. You can customize every product page element with InnovativeWP's plugin.
Types Of Variation Swatches
Add Color, Button, Image, Dual Color, Radio & Dropdown Based Variation Swatches.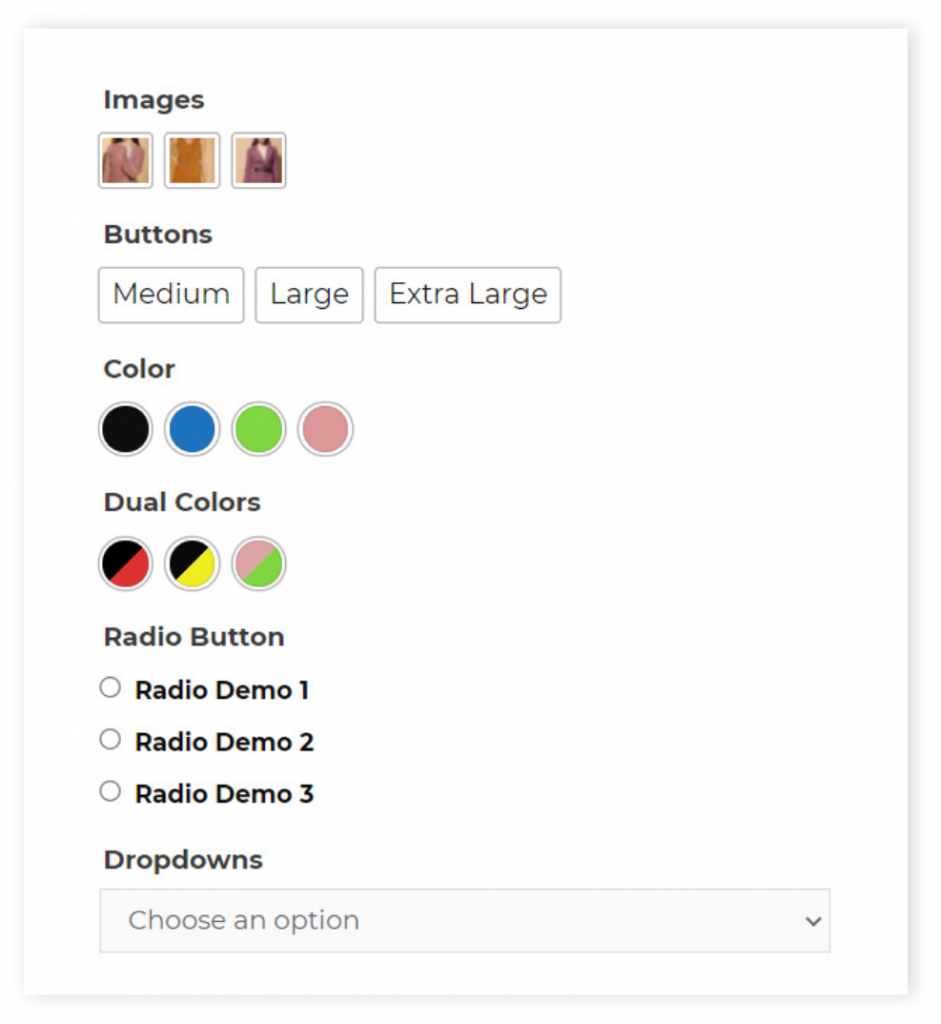 Show Variation Swatches & Additional Images on Archives pages. You can also show features like stock information, Variation limiter, single preview images, tooltips and more.
Product Videos in Gallery
Add Product Video in your gallery. You can add videos from Youtube, Vimeo and Self hosting. You can customize video player too.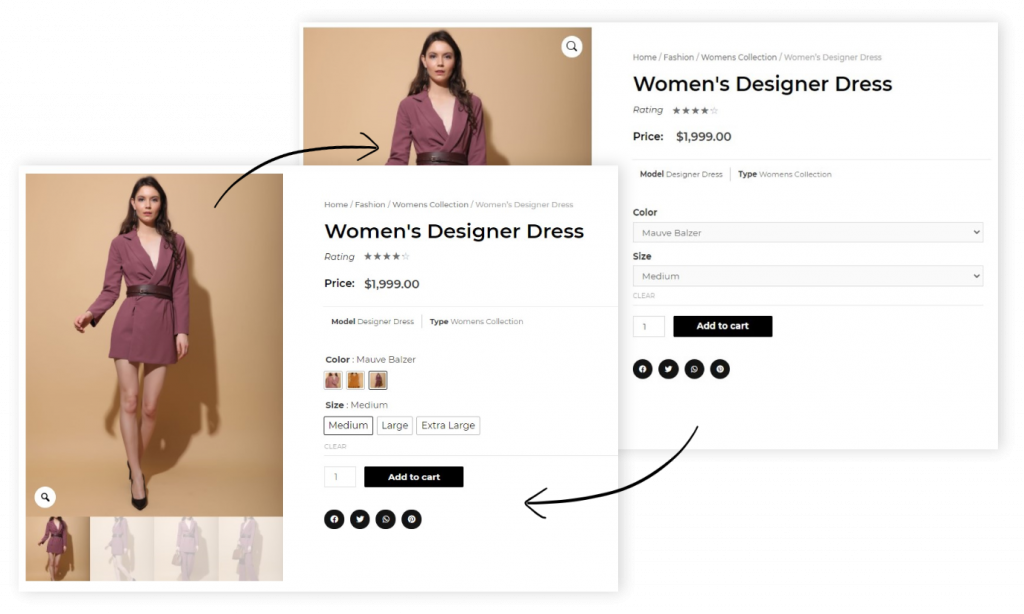 Automatic Dropdowns To Swatches
Convert all dropdowns into designer swatches automatically. Implement updated stylesheet within a single click.
Customize gallery design, You can make vertical and default horizontal product gallery. Also you can change the alingment of the product gallery.
Set different animations for not available products. If product is out of stock, not available or removed by the admin then you can place different animations to hide them.
You can create Sharable link for every variation selected. You can create sharable link based on product attributes.
Show Text & Image based tooltips on product. You can show tooltips on Archives pages too.
Show stock information on product page and archives pages.
This plugin is already translated in English, Italian, Chinese, Spanish, French, Arabic, Russian, Portuguese, German. Also It is compatible with WPML, Loco Translate & other translating plugins.
You can set a limited amount of variations visible only. If your product has many variations that you cannot show on the archives page directly because of User experience and website design, Then you can limit the visibility of variations with Variation Limiter.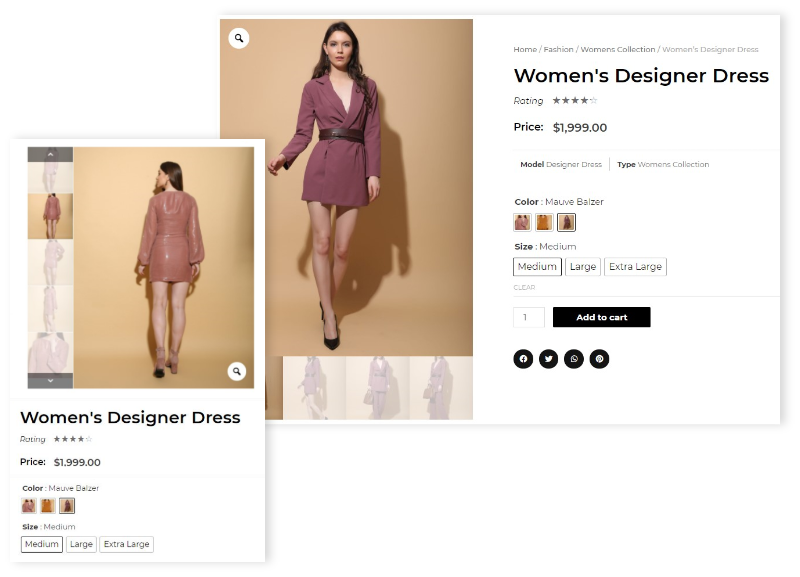 If you want to customize the gallery settings based on the viewing device, Then you can change the dimensions of the gallery related to a device. If you want to show the product gallery smaller in mobile and tablet devices then you have to adjust the settings as per your designs.
Covert rows of images under your main product into a designer slider containing all the gallery images. Add all of the gallery images into a slider.
If your theme supports Quick View button in archives page then you can show variation swatches and additional images in quick view tab.
Detailed Information:
InnovativeWP allows you to customize a complete WooCommerce product page. Convert WooCommerce Product Dropdowns into Designer Variation Swatches Within Single Click. With this plugin, you can,
Add Images separately for every variation.
Add designer Swatches for products
Customize the product gallery settings.
Device & Browser Compatible:
Mobile Devices: All the functions are compatible with mobile devices. Screen sizes of 480×800 are completely working with additional images, swatches, and all other features. It is compatible with other mobile devices' screen sizes also.
Tablet Devices: Tablet devices are also compatible with 1366×768 screen size. All the features are compatible with all devices in this screen size range. It is compatible with other tablet devices' screen sizes also.
Computer Devices:  All the features are compatible with every computer screen size for desktops, laptops, and all devices.
Browser Compatibility: IE11, Firefox, Safari, Opera, Chrome, Edge are completely compatible with this plugin. 
Extra Features For Different Screen Sizes: There is an exceptional feature in this plugin, That allows you to create different settings for different screen sizes. If you want gallery size for computer devices to be 300300 for mobile devices, 600600 for tabler devices, and 1200*1200 then this plugin allows you to do so.
Site Speed & SEO:
SEO: It does not interfere with site SEO. But it benefits the site's structure because of clear sharable links.
Site Speed: Plugin does not affect the site's loading speed. It comes with pre-minified CSS and JS. You can differ in JS parsing and transient cache within the plugin.
JS Loading: You can control script loading control as per your requirements to enhance the site speed issues.
CDN & optimizing: InnovativeWP's plugins are compatible with speed optimizing plugins like WP Rocket, Perfmatters, WP Fastest Cache, W3 Total Cache, WP-Optimize, Autoptimize & More. Also, it is compatible with CDN-based services.
InnovativeWP Services:
Customer Support: Get the best customer support for WordPress plugins from our experienced WP Developers.
Lifetime Updates: We offer lifetime updates on every plugin.
Forums: Separate customer forums are available for separate plugins.
InnovativeWP Plugins: We assure Code Quality & Customer Support.
Envato Top WordPress Plugins of 2021
Free Vs Premium Version Features
We do our best to make our plugins compatibility with the most popular WordPress and WooCommerce plugins available on the market.
You can use this plugin with*:
* All the plugins listed in this section are not included in this package. These are the plugins that are compatible with our plugin.
Wow what a great support, never experienced before, they gave immediate solutions and will take care every query written by us. You guys are awesome and surely will recommend your products to my clients and partners. Please always continue your support like this to your virtual customers. Hatsoff guys...
I had an issue and the team reached out immediately and resolved it. Its great now.
ottimo plugin e ottima assistenza tecnica per qualsiasi necessità grazie
Very happy to find this plugin, it's just what i need, works very well with 30 variations with image 🙂
Plugin wasn't working at first because of theme compatibility, nevertheless the support was top notch and they delivered a solution in a timely manner. I must say this is the best support I've ever encountered before, definitely worth trying it.
If your query is not here, you can contact our team from below.
Can't find the answer?
Send us your question and we will reply very quick!
Plugin Features Video 1. WooCommerce Variation Swatches & Additional Gallery allows you to add …
Elementor Compatibility Video
Add Additional Images & Variation Images for your Elementor + WooCommerce based eCommerce store.
Add Additional Images & Variation Images for your Divi + WooCommerce based eCommerce store.
Beaver Builder Compatibility Video
Add Additional Images & Variation Images for your Beaver Builder + WooCommerce based eCommerce store.
Thrive Architect Compatibility Video
Add Additional Images & Variation Images for your Thrive Architect + WooCommerce based eCommerce store.
Version: 3.0.0
Released: 2021-07-22
Minimum PHP version: 7.0
Requires: WordPress 5.6 or higher and WooCommerce 5.3 or higher
Made for: WordPress and WooCommerce
Supported multilanguage plugins: WPML, Loco Translate
Translation ready: YES
Languages translated: English, Italian, Chinese, Spanish, French, Arabic, Russian, Portuguese, German
Compatible: All Themes, All Theme Builders
Follow the documentation of this plugin to find more information about features. 
Check the forum before submitting any issue. It will save your waiting time.
Contact our managing team directly for any issue related our plugins and products.